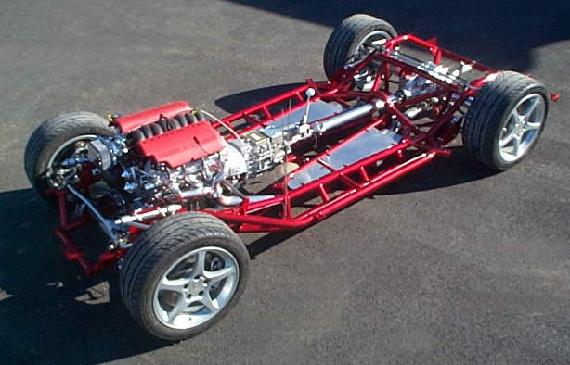 '59 Vette- LS6/TKO 600, custom powdercoat
Add Performance and Reliability To Your 53-62 Corvette
The SRIII frame features a round-tube design, engineered for superior strength and rigidity. The three-dimensional network of round tubing creates a space frame that resists the twisting forces applied during hard cornering and acceleration. When coupled with the 1984-up Corvette forged aluminum suspension, unsprung weight is reduced producing a softer, more controlled ride. Also, the SRIII package is hundreds of pounds lighter than the original chassis and suspension used on the 1953-62 Corvettes, adding to the upgrade benefits.


| | |
| --- | --- |
| A '62 powered by 468 c.i. big block, 9.5" rims connected to the C-4 suspended round tube chassis | SRIII Stage One Frame |
We offer the 53-62 Corvette frames in two stages of completion


STAGE ONE............$8,500.00
Basic frame with your choice of engine and transmission mounts, ready for suspension installation.

C5 front/C4 rear STAGE TWO...........$15,500.00
Includes stage one frame plus all suspension components cleaned, reconditioned, and installed. Includes used Dana 36 rear diff, four coil-over shocks, power rack-n-pinion steering, front sway bar, tubular adjustable strut rods, calipers, pads, rotors and flexible stainless brake hoses.




There is a $500.00 minimum deposit required to order a frame. When we begin production on your frame we will require a 50% deposit of the total purchase price. The balance is due before shipping.

Call for a brochure 815-462-4138 or E-mail sriiiframes@juno.com



| | |
| --- | --- |
| '62 C5/C4 LS2 T56 | 3 pc. trunk panel kit for '53-'62 Corvettes |
Advantages of the SRIII Frame
* The frames are assembled and welded on precision fixtures.
* The frame utilizes the stock body and core support mounts for ease of installation. No exterior alterations are needed. Only the inner front wheel houses must be trimmed and the spare well must be shortened by a few inches. A C-4 space savor spare will fit in the modified well.
* The SRIII frame is new, unlike the original, 40+ year old frame that may be invisibly weakened by moisture and dirt creating rust, that attacks the frame rails from the inside out.
* Stock and reduced track widths are available for a wide selection of wheel and tire combinations.
* Big block and ZR1 testing of the suspension geometry and structural design proves excellent hookup and handling.
* Now available 2" widened full quarterpanels for 56-60 to accept a 10" rim and keep the convertible top.

| | |
| --- | --- |
| 56-60 2" per side widened quarterpanels. 2000.00 pr. | |
Introducing the C-5 SRIII Chassis for 53-62 Corvettes
C5-Z06- stage two w/SS exhaust and brake lines
C5 front/C5 rear
| | | |
| --- | --- | --- |
| LS6/ 6 sp, cold air intake, Dewitt's SRIII radiator | Custom a/c vents, Al Knoch door panels and rails | Widened rear quarters, SS C5 exhaust treatment |
LS2, 6 speed, 1959, RHD

'59 all C5 RHD

1959, all C5, wide quarter panels, RHD